Now that Irelands Christmas Capital is well and truly open for business, it is time to call in and sample the wares on offer in this year's Waterford Crafts, Christmas Craft Fair in Garter Lane. Open every day from 10am to 5:30pm Monday to Saturday and 12 Midday to 5:30pm every Sunday until 23rd of December, this is a Christmas Craft Fair unlike any other.
As you enter Garter Lane this year, your senses will be assaulted with the scent of Christmas spices, heady perfumes and delicate fragrances suggesting exquisite treats and treasures waiting just around the corner. The buzz of excitement and the cheerful festive atmosphere all add to the welcome awaiting you. If you're searching for something to tickle your taste buds with then search no more, for here you will find beautifully tasty Christmas cakes and puddings hand made by the talented Ita Dalton. Victoria Wilmott from Victoria's Incredible Edibles will also have a selection of jams for sale including delicious Cinnamon Scented Plum Jam, Merry Berry Jam and the delightful Muldoon Marmalade.
If it's a unique piece of artwork you are looking for then you are guaranteed to find it here. This year we are again lucky to count local artist Tony Oakley as one of our own. This is his second year involved in the Waterford Crafts Christmas Craft Fair and his paintings are instantly recognisable on account of his fabulous and clever use of colour. From his studio in Piltown, this Waterford native incorporates classical landscape painting with a touch of surrealism. Each painting comes with an individual caption which invites the viewer deeper into the painting and gives thought to the scene. This clever and brilliant artist looks to nature and astronomy for his inspiration and as the Christmas season is filled with vibrancy, colour and attractive shades, he is in his element at this time of year. Come and browse his paintings at the Waterford Crafts Christmas Craft Fair in Garter Lane, read his thoughtful and witty captions and find a spot for one of his creations on a wall in your home.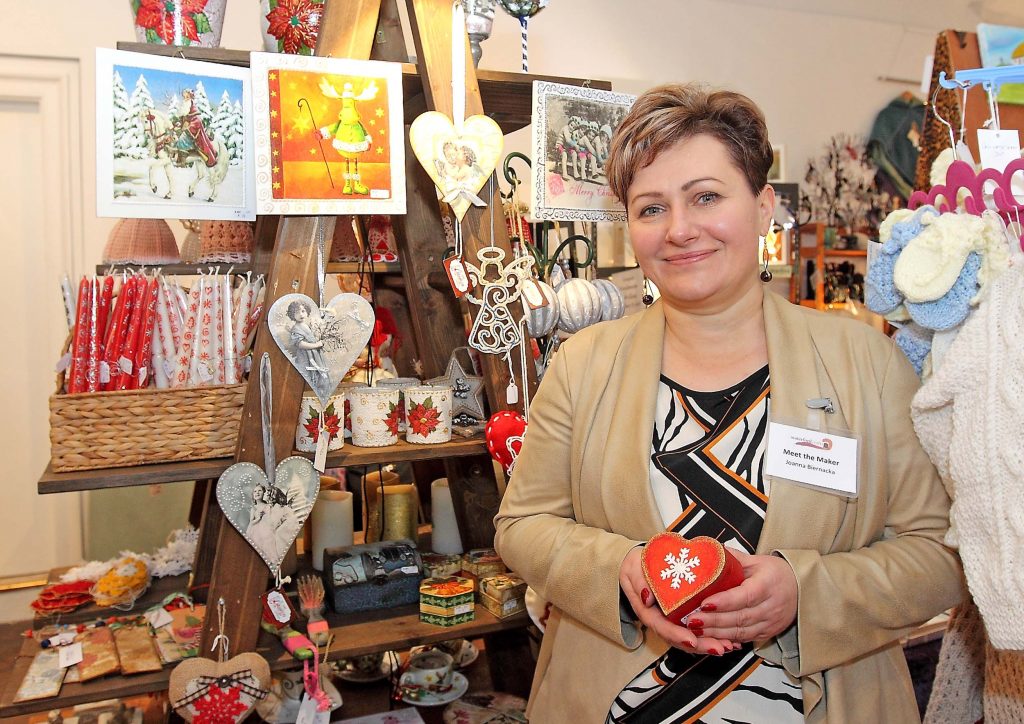 If you don't know your decoupage from your decorating or your crochet from your macramé, then you should take the time to stop by Joanna Biernacka's stand. Originally from Poland but resident in Ireland now for over eleven years, Joanna is skilled in these delicate arts and creates charming pieces that are unique and individual. Decoupage is a particular craft technique whereby an object is decorated using glue, paints and other decorative elements before applying final protective coats of varnish. It is a meticulous and painstaking process that requires patience and talent to create beautiful and ornate designs. Joanna picked up her skills from her mother who was proficient in crafts such as embroidery, knitting and sewing also. Part of the Waterford Crafts for eleven years now, Joanna has some beautiful items on display, ones that make distinctive and treasured gifts.
Waterford Crafts Christmas Craft Fair in Garter Lane is open for business every day from 29th of November to the 23rd of December inclusively. Listen in to the breakfast show on WLRfm with Mary and Ollie every morning from 1st to the 6th of December to be in with a chance of winning a 50 Euro voucher to spend on any of the treasures in this year's Waterford Crafts Christmas Crafts Fair. For more information visit us on social media @waterfordcrafts on Facebook, Instagram and Twitter.
Precious Gifts from Poland to Piltown